We Specialize in Prototypes and Small Production Runs.
Our customers have learned to rely on our expertise in bonding / rubber bonding design assistance and materials selection for their demanding environments such as: Chemical processing, Ultra pure semiconductor, Medical Biomedical, Waste water purification industries.
Submit your project today! Call Now! 508-473-5880
Since 1959, our expertise has been in bonding PTFE/TFM to rubber for diaphragms and seals.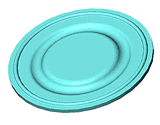 Design Assistance including 3-D and CAE
Tempron provides 3D representation to assist you in visualizing proposed designs or products. We use 3D drawings for CAE analysis to predict optimum geometry and physical properties for your products.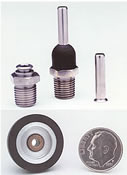 Process and Mold Design
Tempron developed an innovative method of consistently manufacturing small and miniature rubber covered rollers with total indicator runouts of less than 0.002 of an inch. The molding method saved the customer nearly half the original production cost.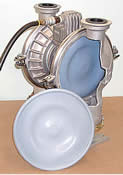 Prototyping and Testing
For every product design, Tempron can provide prototypes to prove design, life testing or field testing. Here, Tempron is life testing a new integrated insert design for a 2" Air Operated Double diaphragm pump, consisting of PTFE with fabric reinforced rubber and bonded metal insert.
Our fully customized bonding / rubber bonding production and custom thin all Teflon/PTFE diaphragms and seal solutions meet or exceed the highest performance and quality standards set by our clients.